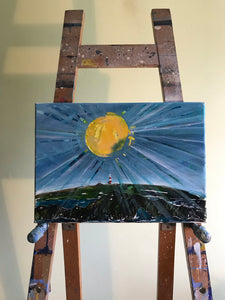 I serve as chaplain on the island of Bardsey once a year. It's an annual pilgrimage that breathes life into me and gives an opportunity to paint for the pure joy of painting! 
This little beauty was produced as part of a series of 9 paintings which I exhibited in the chapel on the island of Bardsey. It's a scene as I waited for some of my co-workers to arrive by boat to spend the day with me. Oh, it was sooooo warm! That's a phrase I heard a lot with an edge of 'nearly complaining' by those who stayed on the island! This painting seeks to capture that warmth and sun over us. 
There's an overemphasis on blue skys and sunshine and like a child I've captured the way the sun made me feel as well as what I saw. Looking out and up over the small mountain on Bardsey the sun blazed down on me. 

This painting measures approx 42 by 30cm and is painted using acrylic inks, masking fluid and acrylic paint and a whole load of joy. 


10% of the sale price will be donated to The Bardsey Island Trust.