What speaks to your heart?
Light in Darkness. New Collection of prints and paintings
Light In Darkness. A series of new paintings and prints
This series of paintings that form a new exhibition at Foxhill House and Woodlands were born out of prayer for people who were in pain and despair.
Through a number of hurting situations ranging from those close to home to chance meetings with strangers, I have felt in my being a painful empathy.
As I've been moved, I've responded through the only way I know: Painting.
The brush has become my weapon for prayers and as I have painted abstract forms and playfully allowed the paint to flow and create new patterns, my despair has turned to hope. The light breaking through the dark depths I have felt.
It hasn't been a cathartic experience, rather an intercessory one.
Buy prints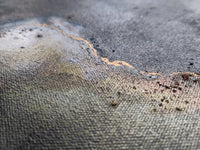 "I ordered a commissioned canvas from Chris which beautifully portrayed my favourite Bible verse in light of a personal situation, Thank you, Chris, for your inspiring ministry."
Chris is amazing - he painted a large canvas for me a couple of years ago, and I treasure it. It is stunning. The story behind it is emotive, and Chris captured it perfectly. Plus, he's a lovely guy!

Dan
Well, what can I say? We love it! What a great way to celebrate half a century; a gift I will treasure from my husband always! Thanks again Chris! 

Sandra Platford
... your prayer filled painting spoke deeply to us both. I said to our family that they really could not have given us a better gift!

Elaine Burrows
There is something very unique and deeply spiritual about the evocative paintings Chris creates.

Tim Finch
It's great! Thanks so much. I so appreciate you getting this to me. 

Rev. Lou Webber
I was fortunate enough to receive 3 geese prints from Chris. They are stunning and I have kept one and gifted two. Absolute joy. Thank you so much.

Mthr Shawn Marie
Every piece speaks to the spirit...

Rev. Yinka Oyekan
Chris really captures the whisper of the Spirit in his paintings.

Heather Bailie