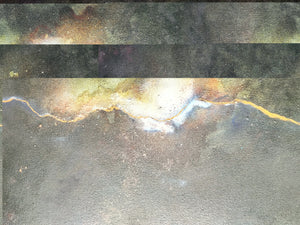 Light in Darkness. 20 new paintings. 
Paintings born out of prayer for people who were in pain and despair. Through a number of hurting situations ranging from those close to home to chance meetings with strangers, I have felt in my being a painful empathy.
As I've been moved, I've responded through the only way I know: Painting.
The brush has become my weapon for prayers and as I have painted abstract forms and playfully allowed the paint to flow and create new patterns, my despair has turned to hope. The light breaking through the dark depths I have felt. It hasn't been a cathartic experience, rather an intercessory one. Within this painting process, I have been strengthened by meditating on scripture.