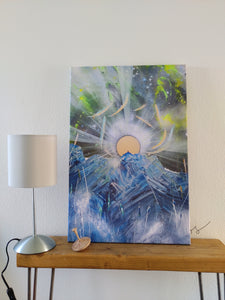 Over Christmas 2021 I had an overwhelming feeling that I needed to paint 3 scenes from Psalm 27, a declaration of who God is and my response to Him.
Over a few days I painted and prayed and added layers and layers of light and texture to 3 large paintings that are now currently being shown at Foxhill House and Woods in Frodsham near Chester and for sale too.
To see the story behind the painting have a look at this short film: 
https://youtu.be/jm0erlSQrp4
This is a canvas print of the second in the series and measures 60 by 40cm
It is signed and the title is on the back. 
NB: due to the printing process this product takes 2 weeks from ordering to delivery.